WAKEFIELD – The latest print edition of T.EVO for February/March 2017 has gone to press. This month, in what's looking like our most jam-packed issue yet, we take an in-depth look at how scientists are exploring silk and slime from insects and fish to create a new class of performance biofibres. We also have a detailed show review from ISPO 2017 in Munich, as well as a number of exciting developments from the world of medical textiles.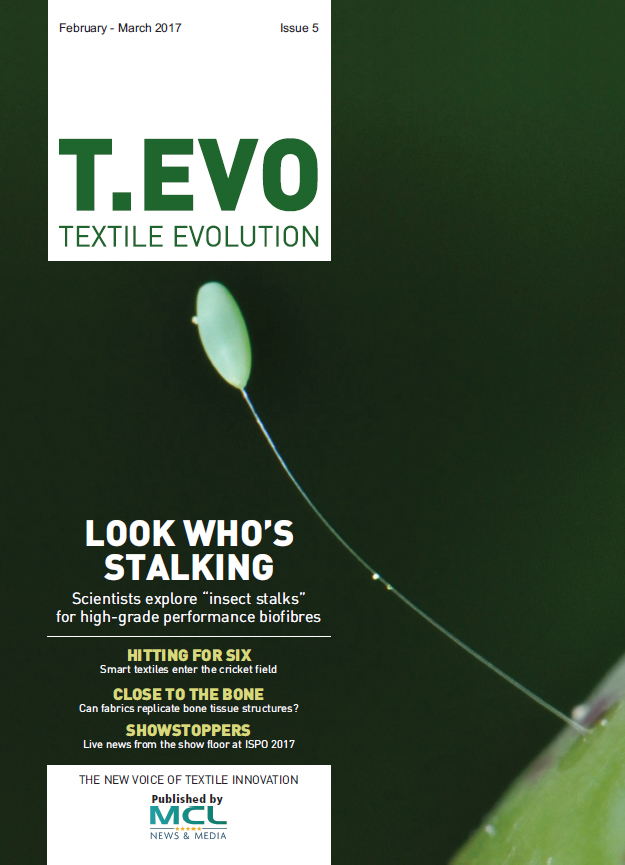 As with every edition of the magazine, there's plenty of news in each of our four Focus sections, which means readers can access the latest updates in smart textiles, functional apparel, fibres and yarns, and textile technology. Alongside this you'll find our regular Frontiers section, which covers news from the cutting edge of textile research and patents.
Elsewhere, we have a live report from the Futex 2017 smart textiles conference in Lille, and a comprehensive update on how carbon nanotubes (CNTs) are continuing to explore the world of performance materials – this time in the aerospace sector.
Our regular readers and subscribers will be able to get their hands on a copy of this issue next week, but we'll also be distributing copies of T.EVO at the Intertextile Shanghai Apparel Fabrics trade show in March, where we'll be reporting live from the show floor for the third consecutive time.
To get hold of this issue, you can go to our publisher's product site here, or you can send an email to This email address is being protected from spambots. You need JavaScript enabled to view it. to find out more about our subscription options.