LILLE – Sportswear brand Puma has issued an apology to the Swiss Football Association after its national team – currently competing in the Euro 2016 tournament in France – were victim to a batch of "defective materials" which caused seven players' shirts to rip during the team's group match against hosts France on Sunday. 
Puma says its 'ACTV Thermo-R' processing technology used in the jerseys, which is said to regulate wearer's breathability during matches, is not to blame for the fault. The company did, however, say that an error in the manufacturing process led to the damaging of elastane yarns used in a "limited number" of the Swiss home jerseys. 
In the statement, Puma said: "Our analysis of the Swiss home jersey from Sunday's game shows that there was one batch of material, where yarns had been damaged during the production process, leading to a weakening in the final garment. This can happen, if the combination of heat, pressure and time is not properly controlled in the manufacturing process. The tight fitting ACTV jerseys are made of an elastane and polyester material mix.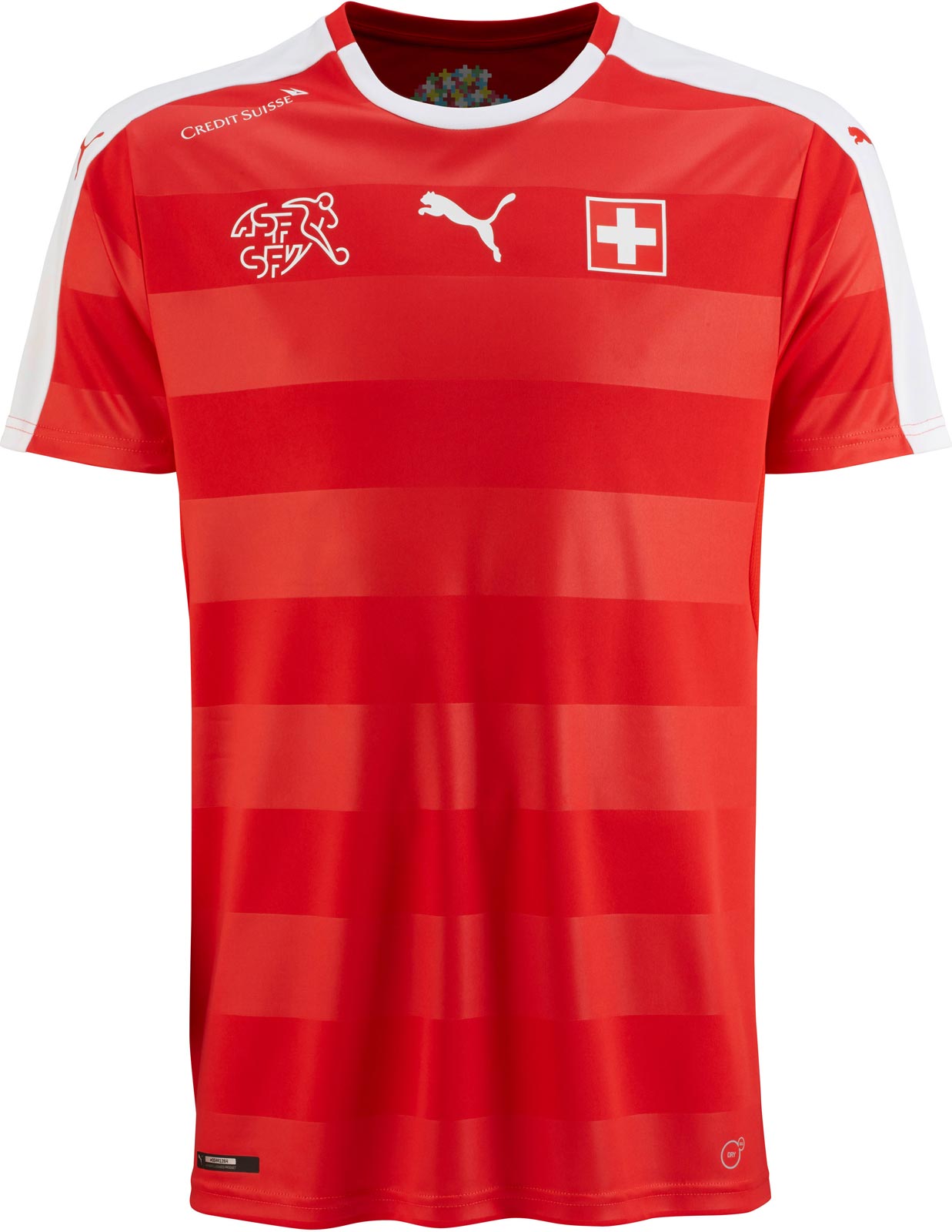 "Puma has checked the inventory of all jerseys of all Puma teams [Austria, Czech Republic, Italy, and Slovakia] and can assure that such an unfortunate incident does not happen again. Puma's national team jerseys for the Euro 2016 are manufactured in Turkey." 
Stressing the beneficial properties of its processing technology, Puma said: "The ACTV Thermo-R helps players to maintain an optimum body temperature through a unique phase-change material injected into the shirt's inner athletic taping, strategically inserted in the front and back of the shirt. It has successfully been used in national and club team jerseys since March 2014 and worn during the World Cup and subsequent club season." 
"In all of [Puma's partner teams], players wear Puma's jerseys with the same ACTV Thermo-R technology. All federations have confirmed that they never had any such issues and are very happy with quality, functionality and design of their jerseys." 
The material contains microcapsules that, according to Puma, absorbs excess heat and sends it back to the body if necessary. The close-fitting shirts therefore claim to allow for a quicker, more effective energy transfer to the wearer's muscles. 
Web: www.puma.com