WAKEFIELD – The upcoming September/October printed edition of T.EVO is set to go to press this week. Alongside the very latest news and analysis covering the likes of functional fabrics, textile technology, smart textiles and fibres and yarns, this particular issue also looks at how a number of textile treatment technologies are exploring ways to combat the spread of the mosquito borne Zika virus (ZIKV) through synthetic insecticide finishes.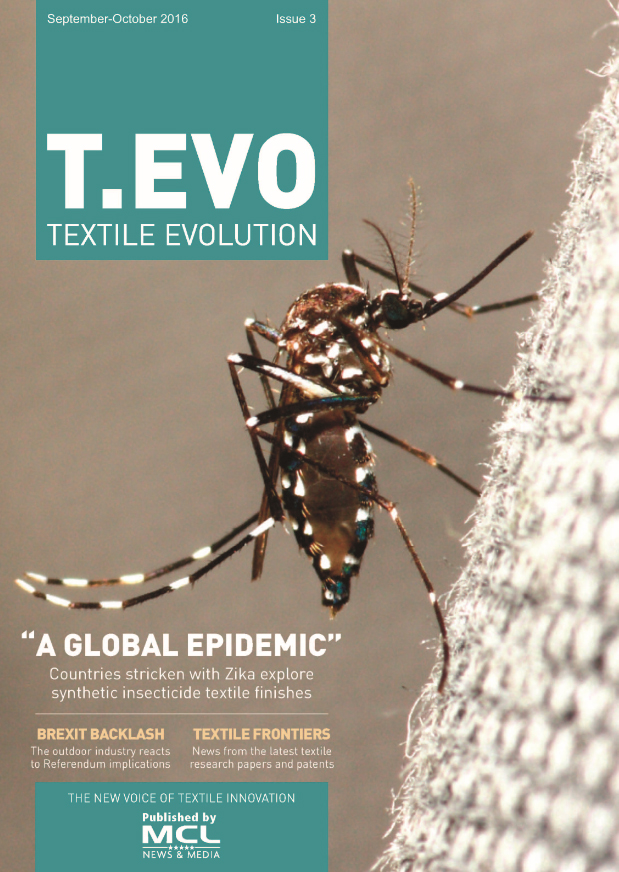 This 56-page issue also examines how the outdoor industry has reacted to the European Referendum results and has comment from some leading brands on the vote's potential implications moving forward – "all very grim stuff" as one British outdoor brand told us. As the 'Brexit' dust settled, we visited July's OutDoor trade show in Friedrichshafen to get some insight on the vote's potential implications in both the European and British outdoor industries. 
Elsewhere, in an exclusive interview with textile machinery manufacturer Santex Rimar, CEO Stefano Gallucci runs us through some of the latest coating technologies as well as the company's market expectations, current consumer trends and a number of other research projects in the pipeline. 
This issue also leans towards some innovative nanotechnology finishing processes, smart military textile developments from BAE, and a whole load of technical textile patents and research papers in our Frontiers section. As always, there's plenty of exciting content covering the entire technical textile industry. 
To find out how you can pick up a copy of this issue of T.EVO, as well as access to all of our back issues, click here.